Quintin Kendall, Deputy Administrator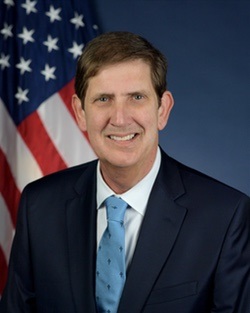 Quintin Kendall is the Deputy Administrator of the Federal Railroad Administration (FRA).  He is responsible for providing executive leadership and guidance on policy matters, budget and administration, regulatory implementation, communications, and stakeholder and governmental relations – all with the focus of helping FRA further its core safety mission.
Mr. Kendall is no stranger to the U.S. Department of Transportation (USDOT).  He served as the Deputy Assistant Secretary for Management and Budget from 2005 – 2008 under Secretary Norman Mineta and as Chief of Staff to Secretary Mary Peters in 2008-2009.  During his tenure, Kendall coordinated with the White House to set and advance the government's transportation agenda, including the issuance of the framework and strategy for a national campaign to reform federal surface transportation policies.  As agency Performance Improvement Officer, he successfully coordinated department-wide efforts to improve financial and personnel management, and procurement initiatives. 
Along with his prior USDOT experience, Mr. Kendall brings to FRA a rail industry background steeped in public sector collaboration and a passion for safety.  Most recently, from 2013–2018, he was CSX Transportation's Vice President, State Government and Community Affairs, based in Jacksonville, FL. In this role, he led CSXT's systemwide grade crossing safety team and managed the railroad's innovative "Play It Safe" rail safety public advocacy campaign, intended to reduce fatalities and injuries occurring on railroad property.  Additionally, he managed the TellCSX Service Center, the only "consumer hotline" offered by a U.S. railroad that provided the general public a venue to report railroad issues, such as blocked crossings, that impact the community.  Finally, Kendall regularly engaged with state and local government agencies to enhance passenger rail service and develop rail served economic development projects of regional and national significance.
Last updated: Wednesday, October 9, 2019