Trespass Prevention
Trespassing along railroad rights-of-way is the leading cause of rail-related deaths in America. Nationally, more than 400 trespass fatalities and nearly as many injuries occur each year, the vast majority of which are preventable. 
It is illegal to access private railroad property anywhere other than a designated pedestrian or roadway crossing. Trespassers are most often pedestrians who walk across or along railroad tracks as a shortcut to another destination. Some trespassers are loitering; engaged in recreational activities such as jogging, taking pictures, hunting, fishing, bicycling or operating recreational off-highway vehicles (ROVs). 
FRA works in partnership with railroads, state governments and other organizations to conduct outreach efforts in order to raise awareness about the inherent dangers and consequences of trespassing. 
Always Expect a Train!
Trains do not follow a set schedule, so they can come at any time of day from either direction. 
A train traveling at 55 MPH can take more than a mile to stop. 
Trains overhang railroad tracks by three feet or more on either side. Even when you are not standing directly on the tracks, you risk being hit by a train by being on railroad property. 
Despite their size, trains are relatively quiet and do not always sound warning horns when approaching a crossing. 
Never attempt to walk under, around or between train cars, even when a train is at a complete stop.
For more safety tips, view FRA's "I am a Pedestrian/Motorist" webpage. 
Recreational Off-Highway Vehicles (ROVs)
Not only is trespassing illegal, the activity poses a major threat to violators' safety and can cause lasting damage to railroad property. 
Riding recreational off-highway vehicles (ROVs) along railroad tracks leads to the erosion of an important part of the track foundation known as ballast, or the rock and soil material that supports the ties and rail. Damage to the ballast degrades the entire track structure and can lead to train derailment, hazardous material spill or damage to nearby property. 
For more information about how and where to ride ROVs, please visit the Recreational Off-Highway Vehicle Association's (ROHVA) website. 
Photography and Selfies
Railroad tracks have become popular locations to shoot wedding photos, graduation pictures and selfies. However, taking pictures on railroad tracks is illegal and highly dangerous. Operation Lifesaver, Inc., one of FRA's partner organizations, warns photographers and social media users of the dangers of this activity. For everyone's safety, keep subjects off the tracks. 
[VIDEO]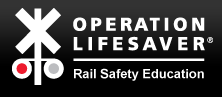 Community Trespass Prevention Program
The Community Trespass Prevention Guide is a program for local, state and national partnerships aimed at reducing trespassing and its related injuries and deaths. 
Rail Suicide Prevention Resources
A leading cause of rail-related deaths in the U.S. is suicide. In June 2011, FRA began systematically collecting suicide data from U.S. rail carriers. From 2012 to 2016, more than 229 people died by suicide within the U.S. rail system annually, and another 176 people were injured from rail suicide attempts. In 2015, the U.S. rail system had its highest recorded number with 352 suicide incidents (321 fatalities and 31 injuries). The U.S. Department of Transportation's Volpe Center has information on various topics including research on countermeasures used to prevent suicides and how rail suicides are reported in the media.
Helpful Resources
Trespass Prevention Materials
Rails With Trails
Multimedia
External Links
Last updated: Wednesday, June 23, 2021