Rail Climate Considerations
The transportation sector emits the highest amount of greenhouse gas (GHG) emissions of all the U.S. sectors, with the rail sector contributing 2% of those emissions. Rail plays an important role in reducing the transportation sector's emissions due to the efficiency of passenger and freight rail transportation. FRA is committed to reducing rail's carbon footprint through supporting the expansion of electrification and other sustainable fuels, expanding the rail network to provide a more efficient choice for passengers and goods shipments, and reducing GHG emissions from the operations, maintenance and construction of the rail system.
Climate change results in an increasing risk to the safety, effectiveness, equity, and sustainability of our transportation infrastructure and the communities it serves. FRA works to promote and execute on initiatives in which tackling climate change is a central component. Furthermore, FRA is dedicated to funding rail projects that create a rail network that is resilient against the impacts of climate change.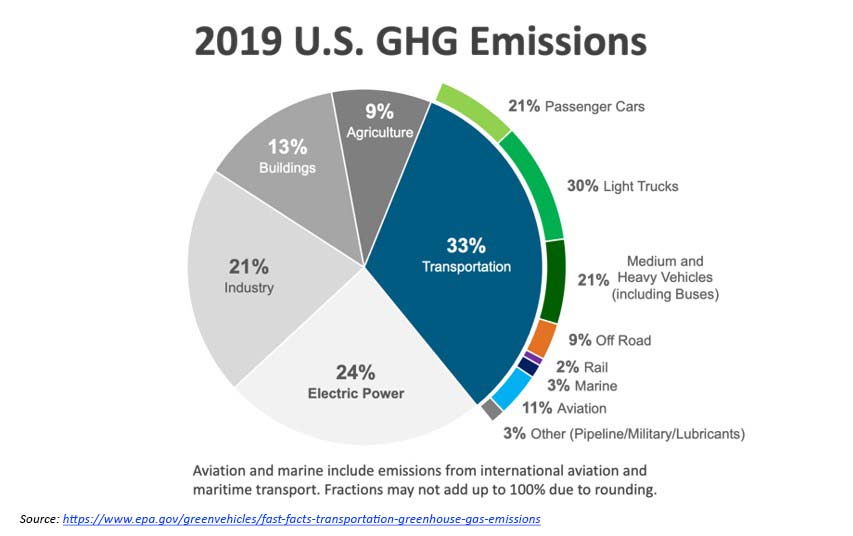 The challenges the rail industry faces regarding climate change are twofold:  
Emissions: The rail network, for both passengers and freight, produces lower GHG emissions than roadway and air transportation, which means that shifting trips from road and air to rail in markets where it makes sense can reduce overall transportation emissions. Still, rail's reliance on diesel fuel leaves a large challenge in reducing GHG emissions from the rail industry.
Resiliency: The rail industry is vulnerable to climate-related weather events and must address the issue of infrastructure resiliency. FRA manages billions in taxpayer funding to develop and support a safe and efficient rail network, so these investments should be built to withstand the effects of climate change. Adverse conditions, such as excessive heat, flooding, sea-level rise, tornadoes, hurricanes, and wildfires are exacerbated by climate change and threaten the safety and reliability of the rail network.
A whole-of-government approach is necessary to effectively tackle climate change, which is why FRA will continue to strengthen our long-standing relationships with governmental agencies to achieve our climate goals. By building on existing and creating new public-private partnerships, we will increase engagement with the rail industry sector to collaborate on research and development for passenger and freight rail technology that will keep our planet and communities healthy, while also creating millions of good-paying jobs. 
FRA will proactively conduct outreach to project sponsors and applicants regarding our funding programs and opportunities to enhance climate and equity outcomes. This will allow project sponsors and applicants to identify investments that prioritize people, communities, and infrastructure that are most vulnerable to climate impacts. For more details on our climate change efforts, view the links below.
Last updated: Tuesday, December 6, 2022