Labor and Employment
The Federal Railroad Administration (FRA) tracks railroad employment trends over time to identify trends in railroad hiring practices, monitors recovery of normal business operations after disruptions, and anticipates issues resulting from workforce hiring and retention challenges.  Employment data presented is sourced from 49 CFR reporting, which includes employment figures reported by each of the Class I freight railroads for their US operations.  Class I railroads are large enough to have an operating revenue over the highest threshold, which in 2021 was $943.9 million.  The Class I freight railroads are Burlington Northern Santa Fe (BNSF), Union Pacific (UP), Norfolk Southern (NS), CSX Transportation (CSXT), Canadian National (CN), Canadian Pacific Kansas City (CPKC).  Canadian Pacific (CP) and Kansas City Southern (KCS) are the two railroads which merged to form CPKC in April of 2023.  Also note that CN's US operations are under their subsidiary, the Grand Trunk Corporation (GTC), while CP's primary subsidiary for US operations prior to the CPKC merger was the Soo Line Railroad (SOO).
The following graph shows Class I freight railroad employment from January of 2017 through October 2023, which is the most recent data available at the time of this update.  Railroad employment was decreasing before 2020, and that decrease accelerated once the pandemic began to impact railroad operations in March of 2020.  Beginning in January of 2022, employment levels began to rise back towards pre-pandemic levels.
The following graph shows Class I freight railroad employment broken down by job categories.  The largest category is train and engine transportation employees.  The two types of maintenance employees are the next two largest categories, followed by the professional and administrative employees, executive employees, and other transportation employees.  Employees in all job categories have seen decreases over time to varying degrees, with some having more pronounced decreases during the pandemic in 2020.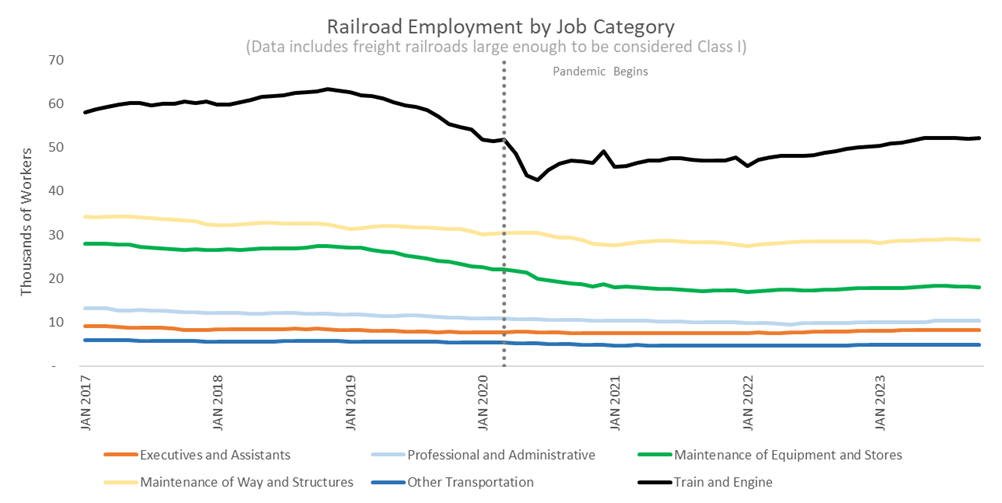 The following graph shows employment for each Class I freight railroad.  BNSF and UP have consistently had the most employees, followed by NS and CSXT, then CN/GTC, and finally CP/SOO and KCS—which merged to form CPKC in April of 2023.  Each railroad has followed a similar downward trend to overall Class I freight employment over time, with varying degrees of recovery after the pandemic.
49 CFR employment data is available on the Surface Transportation Board website. This analysis runs from January of 2017 to the most recent data available, which is for October 2023.
Last updated: Thursday, November 30, 2023