National Strategy to Prevent Trespassing on Railroad Property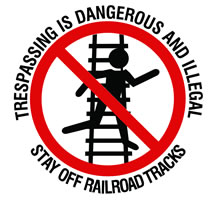 In its report on the Fiscal Year 2018 budget, the House of Representatives Committee on Appropriations requested the Federal Railroad Administration (FRA) to identify and study the causal factors that lead to trespassing incidents on railroad property and develop a National Strategy. 
FRA's National Strategy to prevent trespassing on railroad property includes four strategic focus areas:  data gathering and analysis, community site visits, funding, and partnerships with stakeholders.
Data gathering and analysis of trespass incidents and close-calls will enable FRA to target its resources to trespassing "hot spots."  Conducting community site visits will help FRA to learn more about the specific local circumstances that contribute to trespassing and work with partners to help implement and evaluate targeted mitigation strategies.  Requesting and providing funding will support community-based efforts to deter trespassing.  Finally, building strong and enduring partnerships with communities, law enforcement, railroads, and other organizations with a shared interest in saving lives will enable FRA to leverage and concentrate available resources, expertise, and local knowledge to combat trespassing.
To access the full report, please visit this page.
Last updated: Sunday, November 17, 2019