Improving Rail in Rural Communities
The Federal Railroad Administration (FRA) is committed to improving rail safety and service in communities across the country. There are several programs that target rural communities for rail infrastructure investment and improvement. FRA's efforts in rural communities complement the U.S. Department of Transportation's (DOT) Rural Opportunities to Use Transportation for Economic Success (ROUTES) program. ROUTES was initiated by DOT to improve rural transportation infrastructure, across all modes, and meet our nation's priority transportation goals of safety and economic competitiveness.
Recent Initiatives Benefiting Rural Communities
The Bipartisan Infrastructure Law
On November 15, 2021, President Biden signed the Bipartisan Infrastructure Law (BIL). The BIL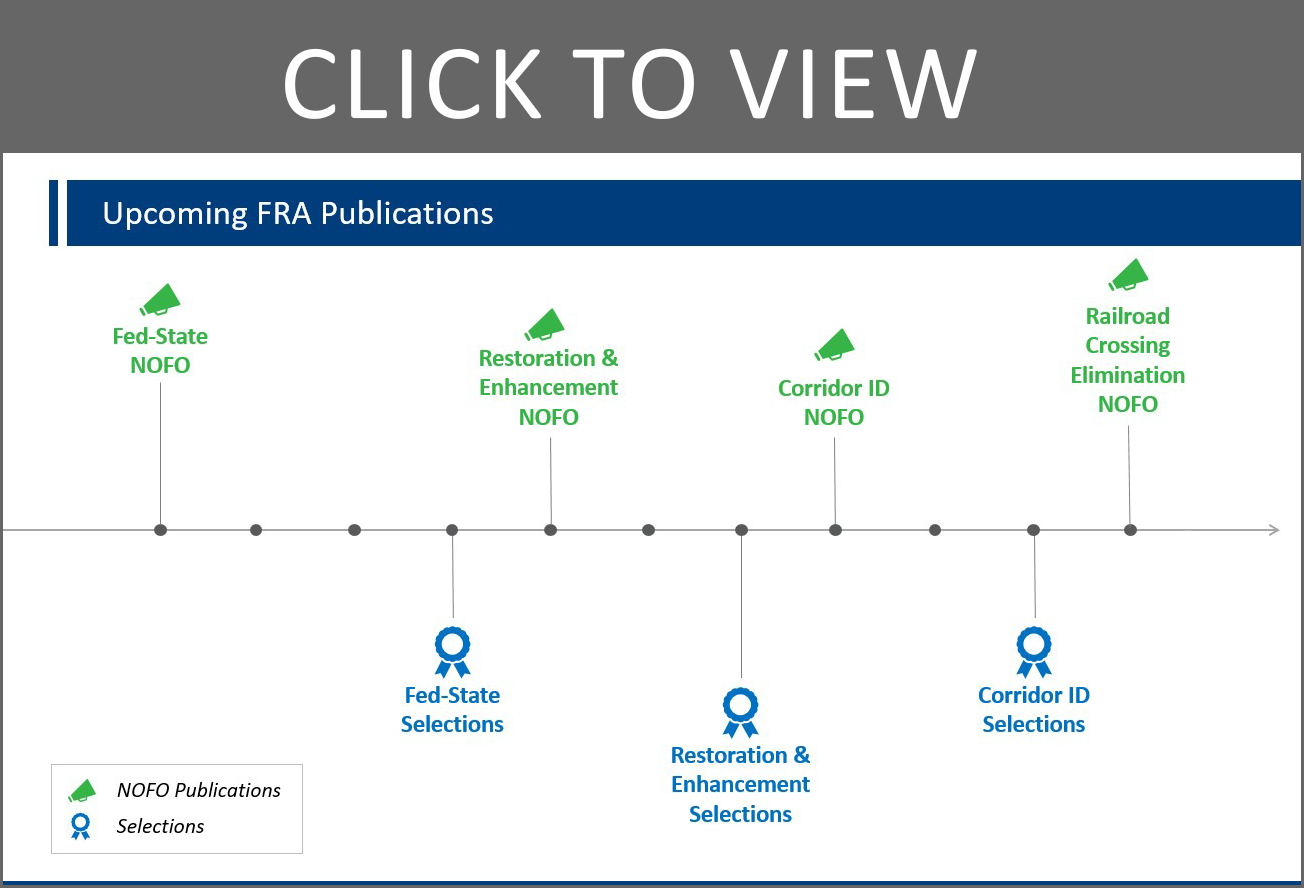 provides unprecedented Federal funding for rail improvement projects in America. Over five years (FY22-FY26), FRA will implement greatly expanded existing programs and launch new programs to enhance our nation's rail network. The Bipartisan Infrastructure Law includes $102 billion in total rail funding, including $66 billion from advanced appropriations, and $36 billion in authorized funding.
One goal of the Bipartisan Infrastructure Law is to help fund rural projects that address deteriorating conditions and disproportionately high fatality rates and transportation costs in rural communities. The BIL allows FRA to invest in rural communities through its discretionary grant programs as well as its long-term rail planning, such as the Amtrak Daily Long-Distance Service Study.
Discretionary Grant Program Tool
This interactive resource provides stakeholders with a
targeted approach to finding FRA discretionary grant programs based on their respective eligibilities. Prospective grant applicants can find out which grant programs align best with their project type and entity type. Users can then click through to the FRA webpages dedicated to those particular grant programs to learn more about eligibility and consult the Notice of Funding Opportunity (NOFO) for more detailed information.
Resources
Rural Spotlight
FY21 CRISI awards included 21 rural projects in 18 states totaling $183,961,374 out of $368,577,068 available. The FY21 rural awards nearly doubled the required 25% rural set-aside for CRISI. 
Sierra Northern Railway (SNR) Track Rehabilitation Project
This project rehabilitates the Oakdale Branch Line from Class I to Class II status replacing 90,000 railroad ties, rehabbing 10 miles of badly worn rail and making improvements to 10 grade crossings. Already freight capacity has increased by 420% and SNR has seen a reduction in costs for both the railroad and their shippers. Increased capacity and track speed has also led to customer growth and benefited the local economy.
 
South Kansas and Oklahoma Railroad (SKOL) Rehabilitation Project    
This project makes upgrades across hundreds of miles of track—installing new rail, replacing crossties, repairing railroad bridges, and improving grade crossing surfaces. These improvements make the majority of the line 286,000-lb capable and will allow SKOL to move more freight faster and on safer infrastructure.
 
Safety Data
FRA's Safety Data Website provides access to highway-rail grade crossing inventory data and railroad accident/incident data.  Data presentation can be customized to meet the needs of the user—including finding detailed information for individual counties and specific highway-rail grade crossings. The website also provides forms and information to help railroads file accident/incident reports.     
Railroad Equipment Inspections 
FRA conducts annual boiler inspections on more than 90 steam-powered historic and scenic railroads in rural communities, helping to ensure the safety of the trains for communities and tourists. In addition, FRA inspects railroad locomotives while they are in centralized locations at facilities in rural areas, hundreds of coal cars at mines, and thousands of other freight cars at switching yards that are the hub of many rural communities. These inspections are part of FRA's efforts to ensure maximum safety in railroad equipment before it travels across the country. For more information on railroad equipment inspections, visit FRA's Motive Power and Equipment webpage.
Safe Transportation of Hazardous Materials by Rail
FRA's efforts contribute to the safety of the communities along railroad routes and to communities near those facilities. In addition, FRA helps communities, manufacturers, shippers, and railroads by providing contact information to agencies (such as the Pipeline and Hazardous Materials Safety Administration) that assist with emergency response planning and other concerns related to the transportation of hazardous materials. For more information about how FRA ensures the safe transportation of hazardous materials, visit FRA's Hazardous Materials webpage. 
Engaging Rural Communities in Grade Crossing Inspections
FRA's grade crossing inspectors invite local public authorities and law enforcement to accompany them on every grade crossing inspection they do. FRA inspectors explain what they do and what help FRA can provide, and they also ask whether the communities need help applying for grants to improve grade crossings. For more grade crossing safety resources, visit FRA's Highway-Rail Grade Crossing Safety and Trespass Prevention webpage.    
ATIP 
FRA's Automated Track Inspection Program (ATIP) uses a fleet of nine high-tech inspection vehicles to conduct operational surveys of the U.S. rail transportation network. The data gathered helps FRA and railroads assess the effectiveness of railroads' track maintenance and inspection processes to improve safety and maintenance quality. ATIP prioritizes Amtrak and commuter passenger lines, crude oil and hazardous materials routes, Strategic Rail Corridor Routes critical to national defense, and any other track with possible safety issues. The fleet can survey approximately 150,000 miles each year on these targeted routes, and many of these miles are in rural locations.
FRA and Amtrak
FRA executes and oversees grant agreements with the National Railroad Passenger Corporation (Amtrak) to provide Amtrak with federal funds appropriated by Congress for a wide range of its operating and capital activities nationwide. These include operation of Amtrak's 15 long-distance routes, which serve stations in 39 states and provide intercity passenger transportation to many rural communities not well served by other modes. In an effort to expand intercity passenger rail and bring world-class service to areas outside the Northeast Corridor, including rural communities, the Bipartisan Infrastructure Law charges FRA with implementing new programs and enhancing existing programs. FRA has been directed to conduct the Amtrak Daily Long-Distance Service Study to evaluate restoring daily intercity passenger rail service along discontinued Amtrak long-distance routes, and increasing service on Amtrak long-distance routes that currently operate on a nondaily basis. Also under the Bipartisan Infrastructure Law and complementing the Amtrak Long-Distance study, FRA will put into place the Corridor Identification and Development Program to implement new or improve existing intercity passenger rail service over short (less than 750 miles) and longer distances.
Loan Programs
USDOT provides a variety of financing options to support rail in rural communities through its Railroad Rehabilitation & Improvement Financing (RRIF) and Transportation Infrastructure Finance and Innovation Act (TIFIA) programs. Two examples are the RRIF Express program, which offers expedited, low-cost loans for short line and regional railroads, and the Rural Project Initiative, which helps improve transportation infrastructure in America's rural communities. For more information on these and other federal loan programs, visit the Build America Bureau Financing webpage.
Economic Data Tool
FRA invests in freight data and analytical tools (such as maps/geographic information system) in addition to research to help State, regional, and local agencies evaluate and address freight issues and the long-term economic outlook for freight rail in rural areas.
Last updated: Monday, June 26, 2023