Maps – Geographic Information System
Overview
The Federal Railroad Administration (FRA) is the authoritative source of information on passenger and freight rail networks for the U.S. federal government. FRA provides geospatial resources to the public on rail networks, including data on grade crossings, Amtrak stations, and more. This page contains information about and links to FRA's Safety Map, Trespassers Casualty Map, and Grade Crossing Inventory.
FRA also provides rail data to the Bureau of Transportation Statistics (BTS) to support the Open Data Catalog, which includes information on the North American Rail Network (NARN).
FRA Safety Map
The FRA Safety Map is an interactive map that outlines rail networks for:
Users can manipulate data to view maps by topography or street view, and add additional data layers including:
Freight Stations
Grade Crossings (updated weekly)
Mileposts
FRA's Grade Crossing Inventory provides visual and geographic views of grade crossings. Users can input a Crossing ID and select "Generate Map" to be taken to a custom report. Please refer to the FRA GIS Web Application User Guide for more information.
Trespassers Casualty Map
The FRA Trespassers Casualty Map is an interactive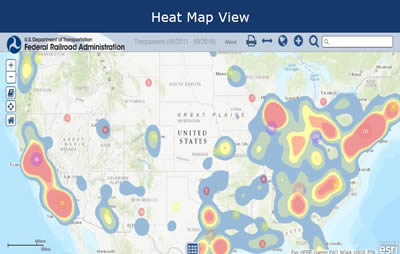 map that displays all railroad trespasser-related injuries and fatalities dating back to June 2011.
FRA aims to increase education, enforcement, and engineering efforts to reduce trespassing on railroad property by providing access to this information.
Similarly to the FRA Safety Map, users have the ability to view maps in multiple forms, as well as add layers, including Class I Railroads and Main Line Rail.
The FRA Trespassers Casualty Map also allows users to view:
Where trespassing accidents and fatalities occur
Trends of where accidents are most concentrated
Details on what occurred at accident locations
Outline of Class I Railroad networks
Justice40 Rail Explorer
The Justice40 Rail Explorer is an interactive web application that combines data from the U.S. Department of Transportation (DOT) Equitable Transportation Community (ETC) Explorer, the North American Rail Network (NARN), the FRA Grade Crossing Inventory, the 2020 Census, and the Bureau of Indian Affairs (BIA). The tool allows users to understand rail infrastructure and potential improvement projects in the context of the surrounding communities.  
The purpose of the Justice40 Rail Explorer is to facilitate an understanding of how rail infrastructure intersects with communities and to foster communication of the benefits to those communities of potential rail investments.
The tool enables users to explore the location of existing and future rail infrastructure (grade crossings, rail yards, and rail corridors) in the context of how communities are experiencing burden and consider how transportation investments may benefit those areas. Users can search for existing rail lines, rail yards, and/or grade crossings and overlay information from the ETC Explorer, the 2020 Census, and BIA's tribal lands maps.
​
Last updated: Wednesday, November 22, 2023