Back2Basics
FRA's Back2Basics is an educational information initiative directed to railroad professionals and focuses on the personal aspects and responsibilities of staying safe in the workplace. Every week we post a Rule of the Week message on Facebook and LinkedIn. New messages will be added to this webpage as they become available.
We encourage you to visit this webpage again, tell your colleagues, and download and share the messages to help remind us all of the importance of fostering a continuous culture of safety in the railroad industry.  
Railroad Safety Specialist John Brahaney created this initiative's artwork and messaging. If there is a topic you would like to see addressed, please contact John at john.brahaney@dot.gov
HONESTY
MORALE
TEAMWORK
TRAIN PLACEMENT
PPE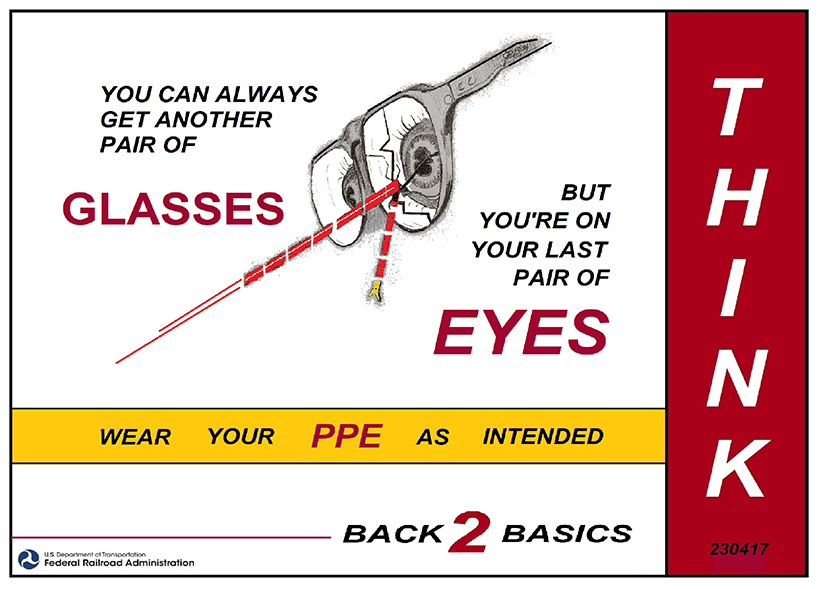 SHUNTS & JUMPERS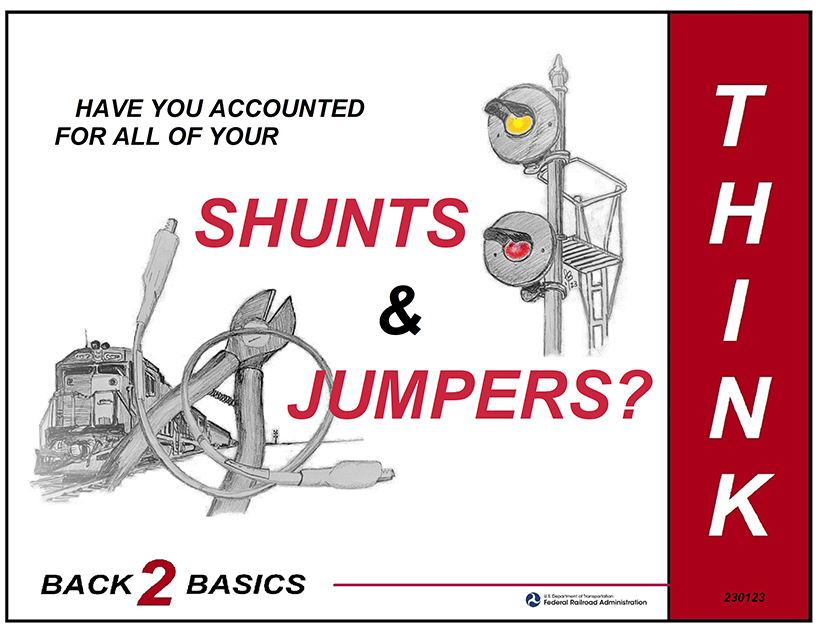 KEY TO SAFETY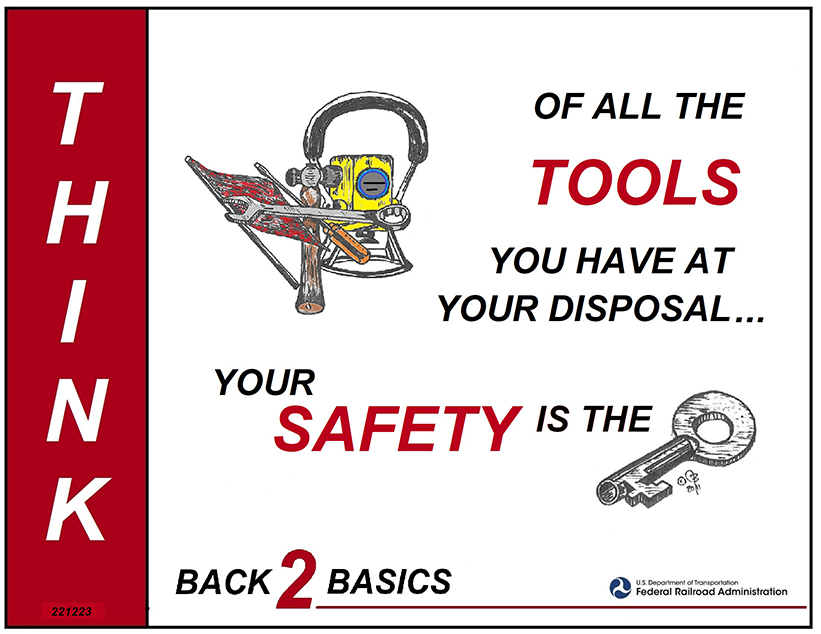 APPENDIX "D"
FALL PROTECTION
BOILER PLUGS
Don't just do the ones that are easy to reach.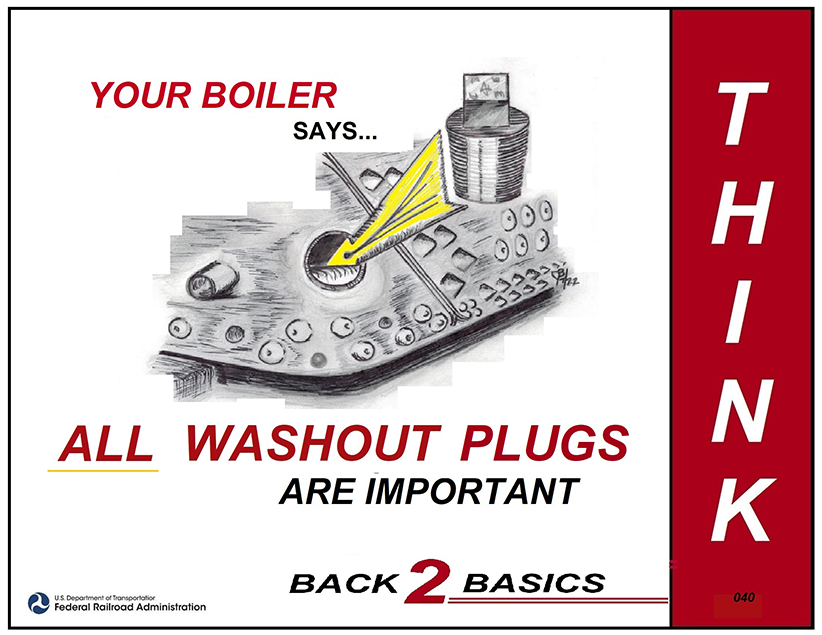 ARE YOU PROTECTED?

Railroaders work with protection…period.  What is yours? 
 

TOO CLOSE

Operators AND Roadway Workers must know and follow the safety procedures in their On-Track Safety Manual before working near a RMM's. 2 of the last 3 roadway worker fatalities involved being struck by RMMs. Don't become a statistic.
WATCHMAN/LOOKOUT
Railroaders, especially in frigid weather, BE EVER VIGILANT, you're protecting workers.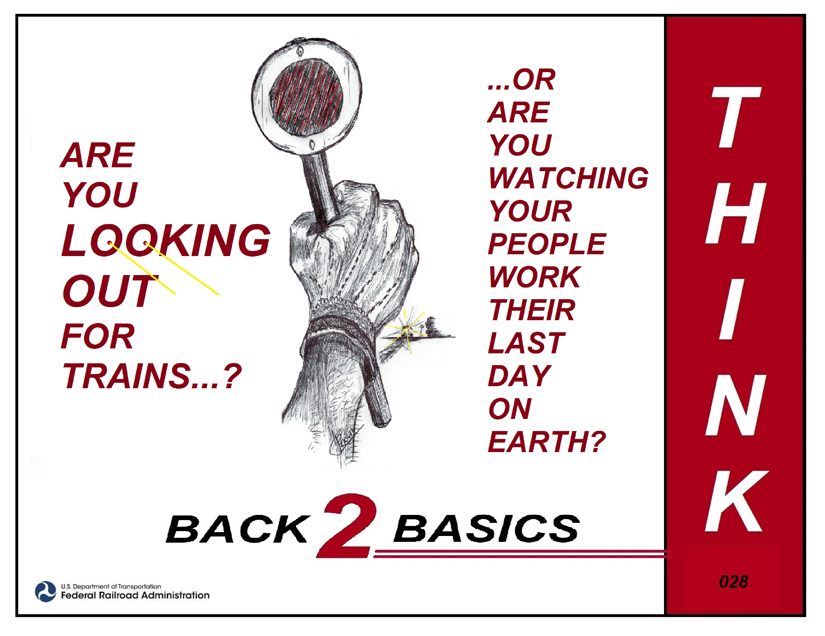 SHOVING

Railroaders, ALWAYS shove prepared to STOP in half the distance given…ALWAYS!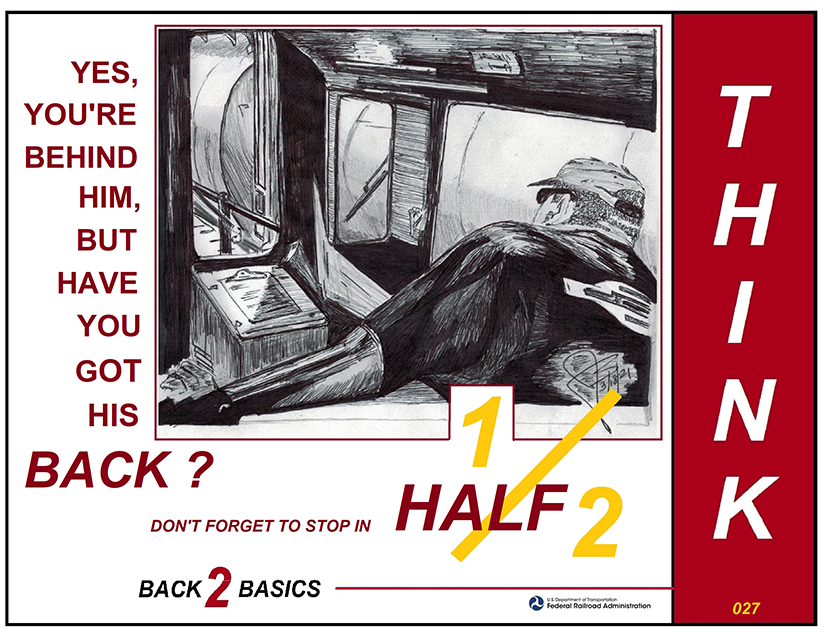 CELL PHONES
It's not about the device, it's about situational awareness. Every time handheld electronic devices distract railroaders from their work, it's like pulling a pin on a hand grenade. Don't take risks! People's lives are at stake.
 

CULTURE CHANGE

Railroaders work in a very dangerous environment. Keep your head on a swivel and come home safely … today, and every day. 
SHIFT CARS SAFELY
Railroaders, you are only as good as your last run. Shift cars safely.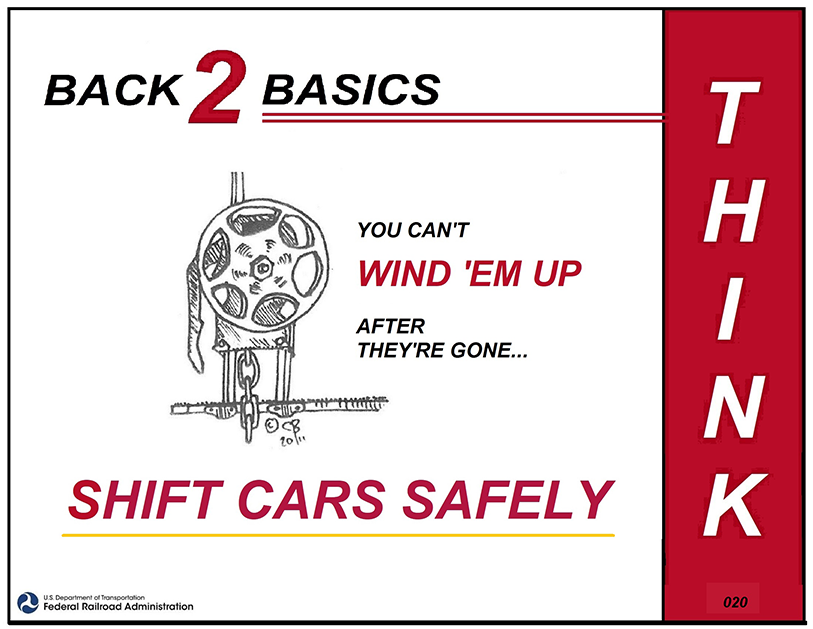 USE YOUR HEAD

Railroaders, only ride at locations designed for that purpose. Be careful … for your sake and the sake of your family.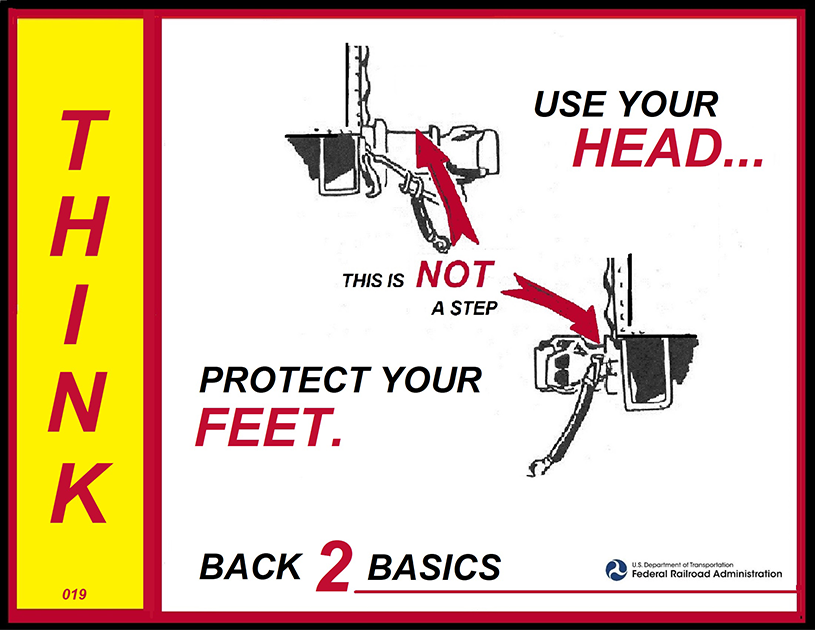 BODY MECHANICS
Here's to railroaders having a long and healthy railroad career! 
 

LOOKING OUT

Railroaders: Can you STOP in HALF THE DISTANCE that you're able to see?  If you can't, you're going too fast.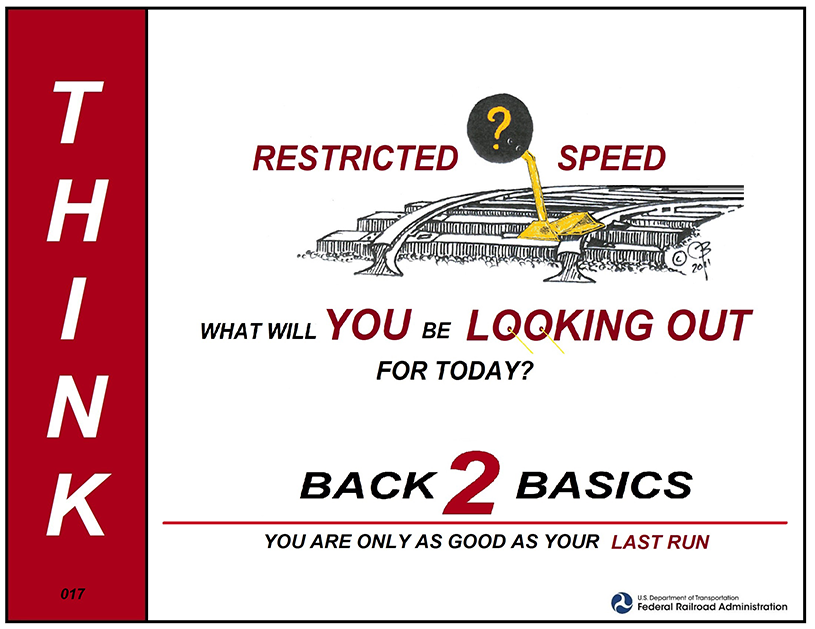 ROOT CAUSE
Railroaders, don't stop digging until you find the root!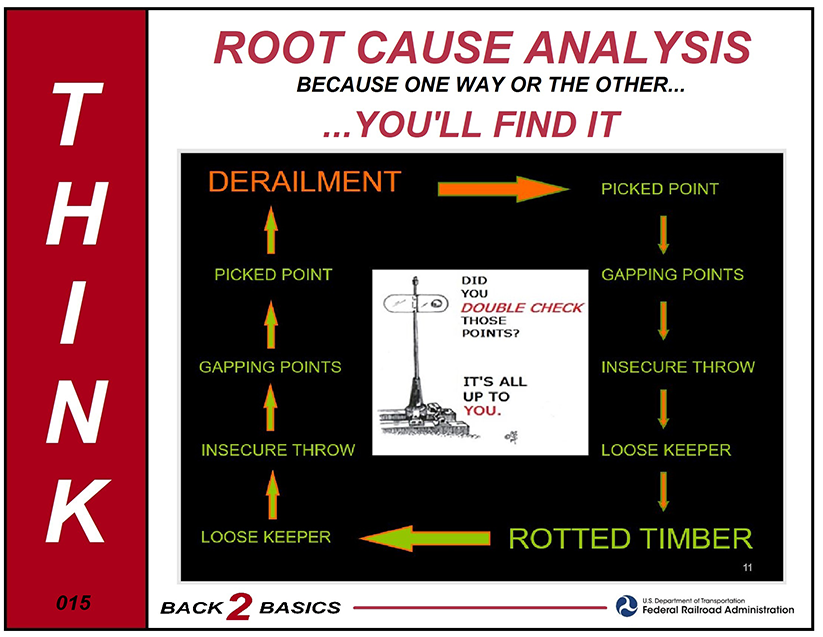 LEAN ON 'EM
Soon, the leaves of autumn will fall and the buzzers will sound. Warm brakes are effective brakes. And effective brakes make for a smooth ride…and a positive stop.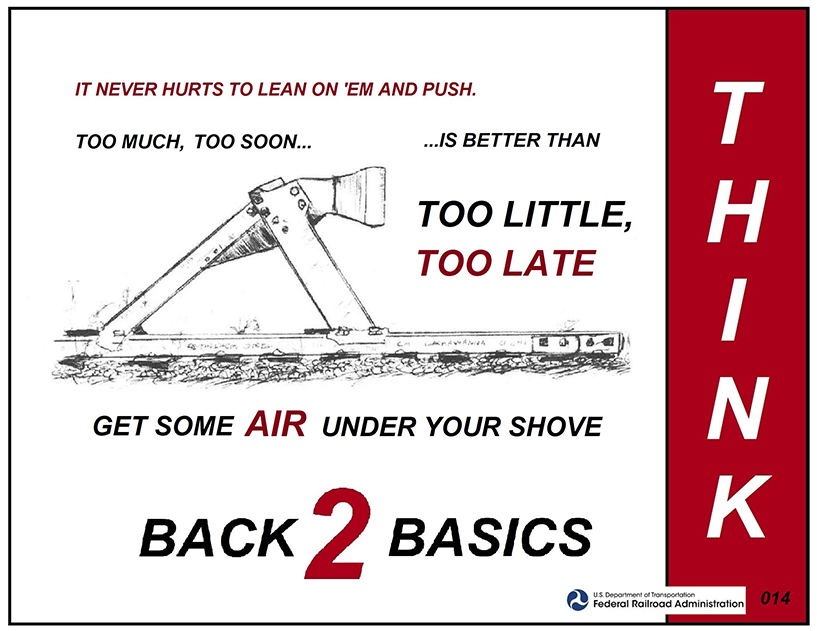 RED ZONE
Stay out until you're protected! 
BLUE SIGNAL
Railroaders know that Blue Signal is an important & successful regulation.  Keeping Railroad Workers who are on, under, or between railroad rolling equipment safe is a high priority. 
CLEAR WAYS
Cold weather presents a slew of challenges for railroaders. Clean steps to a cab are clean steps to safety! 
CHOCKED
Railroaders must take the time to inspect what they pull. Attention to detail protects the customer, the carrier & YOU.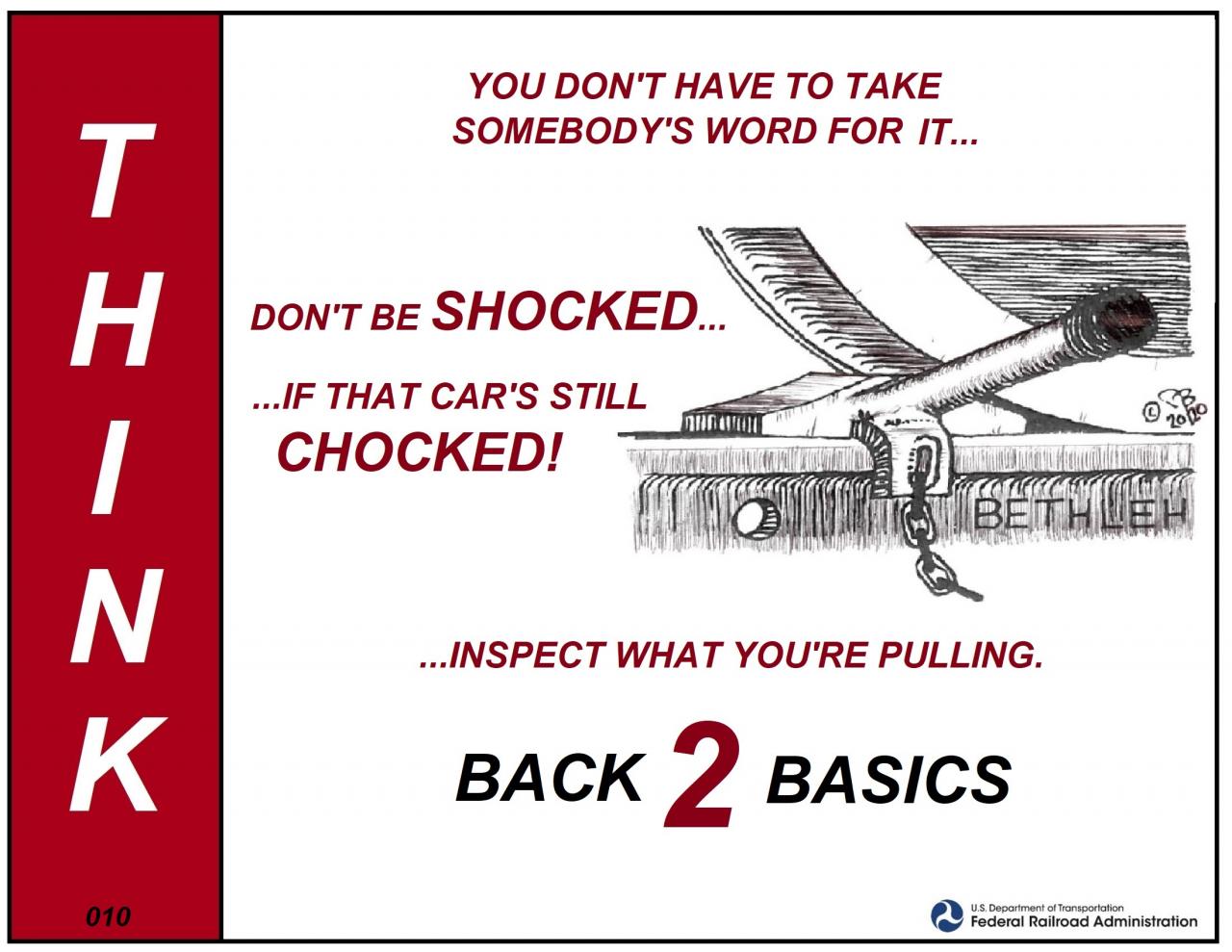 CARS MAY MOVE
Railroaders: Being covered from head to toe in high-visibility gear doesn't mean a freight car just kicked into a track has eyes to see you. ALWAYS watch out for moving cars before crossing tracks. The life you save will be your own. 
 

RESTRICTING

Your train still belongs to you, not the box. Railroaders, take the extra effort today to be on the lookout for trouble.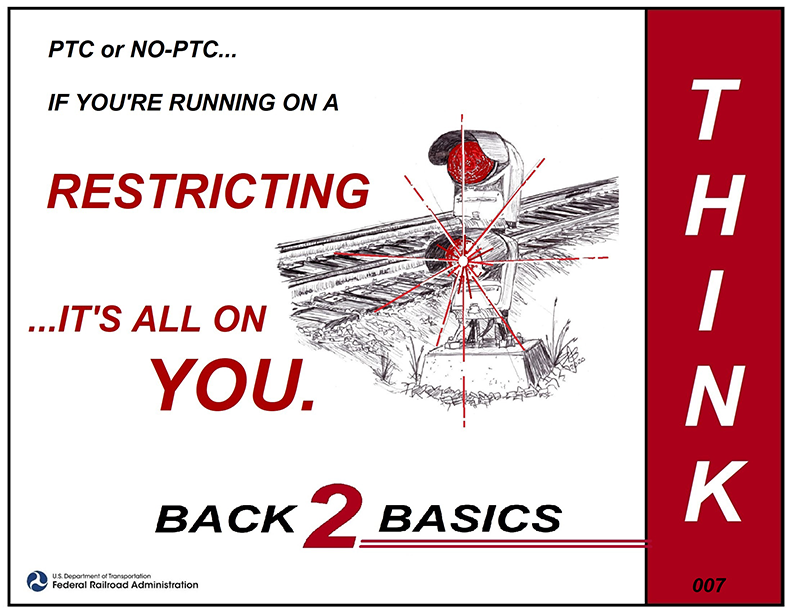 DOUBLE-CHECK

Check it, line it & check it again. Railroad like the professionals you are.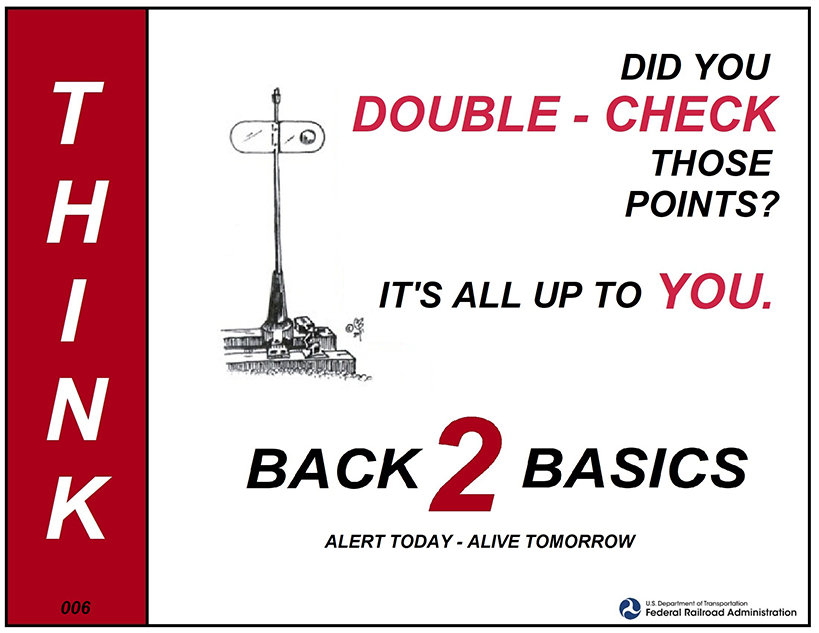 TIGHT CLEARANCE
Don't take chances. Railroaders should know that being alert today means being alive tomorrow.  
EZ SWITCHES
Railroaders, take care when throwing switches & use proper body mechanics.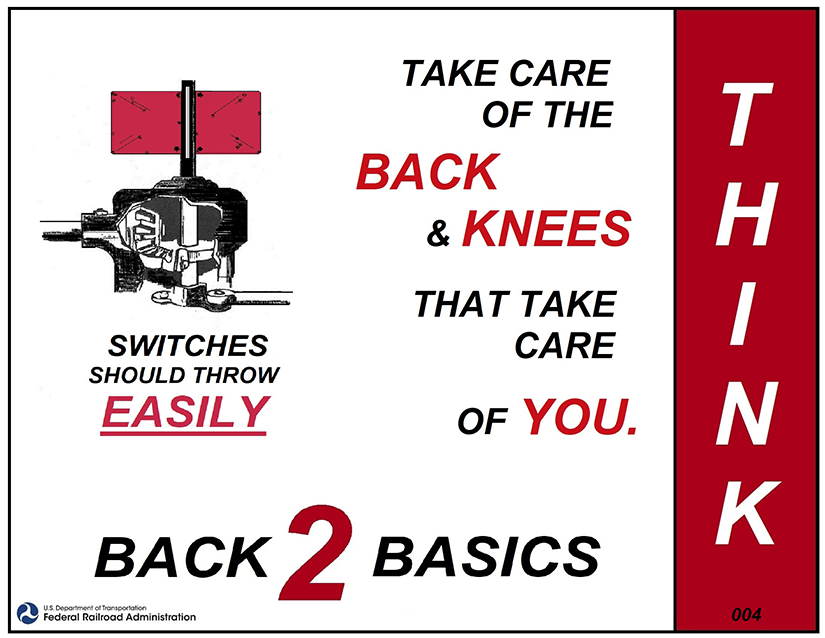 REPEATS
Taking authority and copying orders is one of the most important things a railroader does.  GET IT RIGHT!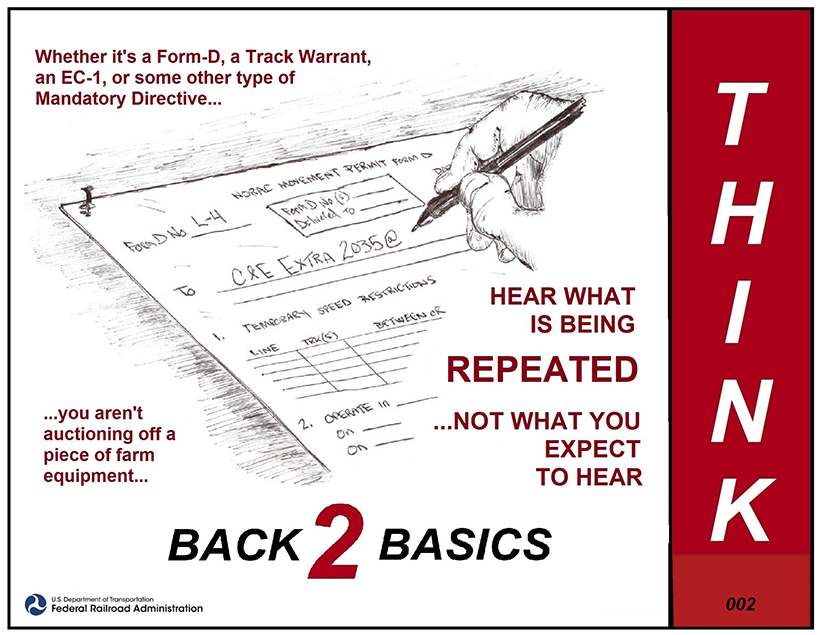 CLOSE CALL

C3RS…your piece of the pie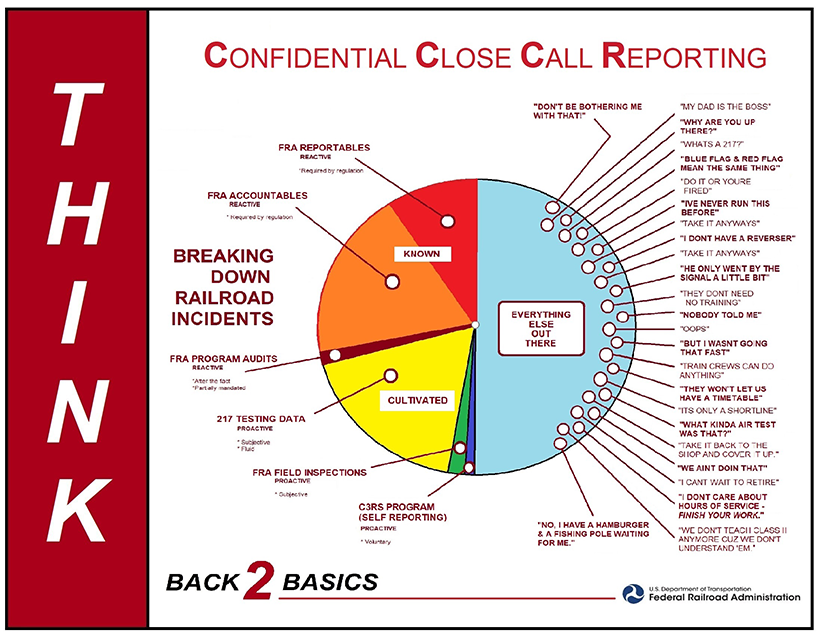 WHAT'S THE POINT?
A TARGET is nice, but the POINTS take you there.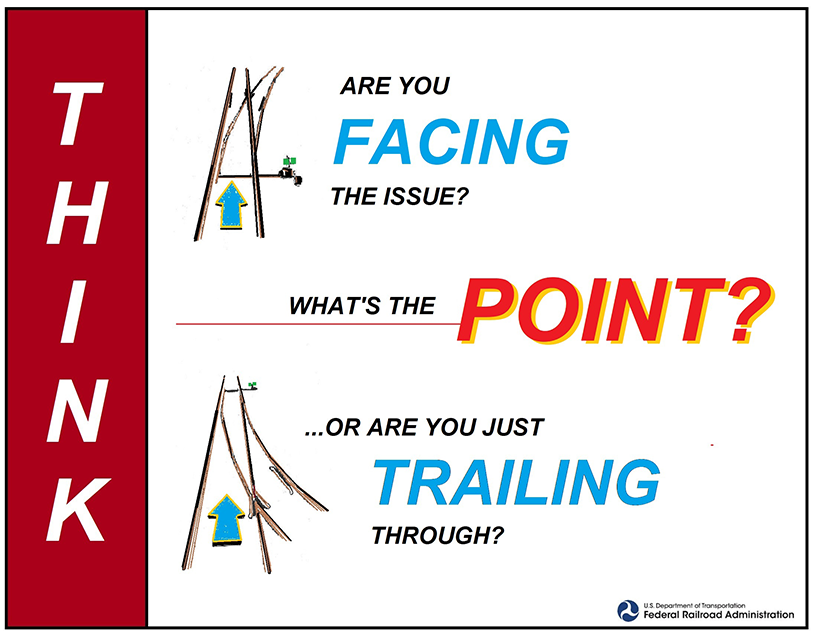 Last updated: Friday, April 28, 2023