Brett A. Jortland, Deputy Chief Counsel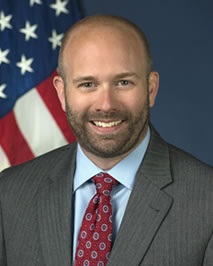 Brett A. Jortland has served as Deputy Chief Counsel for the Federal Railroad Administration (FRA) since September 2017.  In this role, Brett is responsible for overseeing all FRA legal matters, providing ongoing legal advice to FRA senior leadership and program staff, and supervising a legal office of approximately fifty attorneys and professionals.
In August 2007, Brett first joined the Department of Transportation (DOT) as a staff attorney in the Office of the General Counsel.  He was then promoted in September 2012 to serve as the Deputy Assistant General Counsel for Regulation, where he helped manage an office of ten attorneys and professionals; provided expert legal and policy advice to senior DOT officials on high-profile rulemaking, regulatory, and administrative law issues; and advocated countless times for DOT's policy positions before the Office of Management and Budget.  During this time, Brett developed broad transportation expertise through his work on reviewing the legal, policy, and economic rationale supporting rulemakings involving railroads, motor carriers, pipelines, hazardous materials, and maritime matters. 
Before joining DOT, Brett was a Presidential Management Fellow at the Department of Health and Human Services, focusing mainly on issues related to procurement law and policy.  Prior to his legal career, he served as a Field Artillery Officer in the United States Army.  Brett received his J.D. from The Ohio State University, his M.B.A. from the University of Baltimore, his B.B.A. in Finance from James Madison University, and he is a graduate of the Federal Executive Institute.
Last updated: Wednesday, April 15, 2020