Karl Alexy, Associate Administrator for Railroad Safety & Chief Safety Officer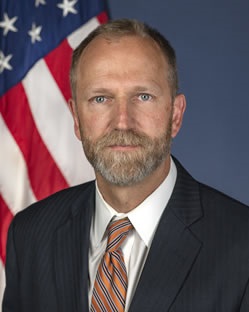 In July 2019, Mr. Alexy became the Associate Administrator for Railroad Safety and Chief Safety Officer of the Federal Railroad Administration (FRA).  In this role, Mr. Alexy manages FRA's regulatory oversight of rail safety in the United States and oversees the development and enforcement of regulations and safety programs for the freight and passenger rail industry. Mr. Alexy previously served as FRA's Deputy Associate Administrator for Railroad Safety supervising the Office of Safety Analysis, the Office of Technical Oversight, and the Office of Regional Operations.
Mr. Alexy joined FRA in 2009 as a General Engineer in the Hazardous Materials Division.  In that role, he collaborated with other Department of Transportation agencies and the freight rail industry on rulemakings, enforcement, research, and outreach activities.  In 2012, Mr. Alexy became Staff Director of the FRA's Hazardous Materials Division and led efforts, in coordination with the Pipeline and Hazardous Materials Administration, to develop the regulation on Enhanced Tank Car Standards and Operational Controls for High-Hazard Flammable Trains.
In 2015 Mr. Alexy became Director of the Office of Safety Analysis, which is comprised of seven divisions; Economic and Regulatory Analysis, Passenger Rail, Human Performance, Data and Information Management, Risk Reduction, Security, and the Highway-Rail Grade Crossing and Trespasser Prevention Program.
Before joining FRA, Mr. Alexy worked for DuPont de Nemours in Wilmington, Delaware.  At DuPont, he served as the Senior Engineer in DuPont's Logistics Group where he oversaw the design, construction, and modification of tank cars used to transport hazardous materials.  He also was a Fleet Manager responsible for overseeing the maintenance of the owned and leased vehicles
Mr. Alexy earned degrees in Biology from Bloomsburg University in Bloomsburg, Pennsylvania, and Civil Engineering from Drexel University in Philadelphia.  He graduated Summa Cum Laude and first in his class at Drexel.  He earned a professional engineering license from the State of Maryland.
Last updated: Monday, October 7, 2019