Rebecca Pennington, Chief Financial Officer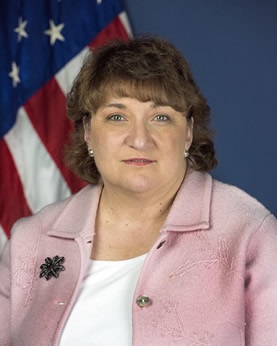 In March 2012, Rebecca Pennington became the Chief Financial Officer (CFO) for the Federal Railroad Administration (FRA), serving as the chief performance manager and integrator for FRA budgetary and financial matters.  As CFO, Pennington is dedicated to strengthening financial management and oversight and improving program and financial accountability.  She advises FRA executive leadership on fiduciary matters and articulates the agency's resource requirements to the Secretary of Transportation, Office of Management and Budget (OMB), and Congress. 
Her 22 years of experience in Federal financial management provides FRA with the expertise necessary to ensure effective operation of the budget process, and proper utilization of and accounting for taxpayer resources.  Previously, Pennington served as the Deputy Chief Financial Officer and the Chief Acquisition Officer, National Highway Traffic Safety Administration.  She acquired additional financial management experience at the Departments of Treasury and Navy. As a Treasury financial management consultant, she worked with the Federal Bureau of Investigation, Drug Enforcement Administration, And Overseas Private Investment Corporation, and the National Reconnaissance Office. 
She is a graduate of Potomac State College of West Virginia University and Mary Washington College (now the University of Mary Washington).  She lives in downtown Fredericksburg, Virginia, with her husband, Rick, and daughter, Rachel.
Last updated: Monday, October 7, 2019