Draft Environmental Impact Statement (DEIS)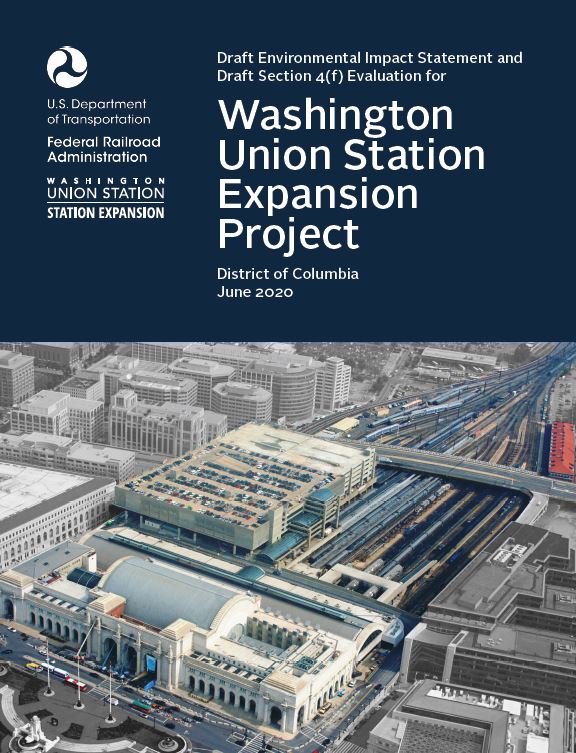 The Federal Railroad Administration (FRA) released the Draft Environmental Impact Statement (DEIS) and Draft Section 4(f) Evaluation for the Washington Union Station Expansion Project for comment from agencies and the public on June 4, 2020. FRA filed the DEIS with the U.S. Environmental Protection Agency (EPA), and the EPA published the Notice of Availability (NOA) of the DEIS in the Federal Register on June 12, 2020. In response to requests from agencies and members of the public, FRA has extended the public review and comment period for the DEIS and Draft Section 4(f) Evaluation by 60 days. Comments are now due on or before September 28, 2020.
FRA is coordinating compliance with NEPA and Section 106 of the National Historic Preservation Act consistent with 36 CFR 800.8. The Draft Section 106 Assessment of Effects Report is appended to this Draft EIS for public review. The public may also provide comments on the Section 106 process and adverse effects to historic properties as part of the public comment period on the Draft EIS. Public participation is solicited without regard to race, color, national origin, age, gender, religion, disability, or family status. All comments received will become part of the public record. Commenters' names and, when applicable, organizational affiliations may be shown but no other identifying personal information (including personal email addresses) will be published.
The DEIS and Draft 4(f) Evaluation files can be accessed via the links provided below. As DC Public Libraries are currently closed, please check back for updated information on how to view a copy of the DEIS. 
For frequently asked questions, please visit the FAQ link. To inquire about obtaining a copy of the DEIS or for further questions and inquiries please email to: info@WUSstationexpansion.com
Comments on the DEIS and Draft Section 4(f) Evaluation must be sent no later than September 28, 2020. Public comments can be submitted as follows:
Sending written comments by email to: info@WUSstationexpansion.com
 
Sending a written comment by U.S. mail to: 
Mr. David Valenstein
Office of Railroad Policy and Development
USDOT Federal Railroad Administration (MS-20 RPD-10)
1200 New Jersey Avenue, SE
Washington, DC 20590
 
Providing oral testimony during the Telephonic Public Hearing.
July 14, 2020 
11am to 1pm and 6pm to 8pm 
A presentation summarizing the findings of the DEIS will be posted on this site prior to the meeting.
Last updated: Friday, June 26, 2020