High Speed Research Car T-16
In November, 2000, the Federal Railroad Administration (FRA) began operating high speed research car T-16 to investigate methods for providing a safer and smoother ride for passenger and freight trains traveling at higher speeds. FRA's Office of Research and Development uses T-16 to study the dynamics of wheel-rail behavior, to investigate methods for improving track inspection, and to assess potential high speed rail corridors. T-16 also assists Amtrak, local and regional commuter authorities, and individual railroads in assessing their routes.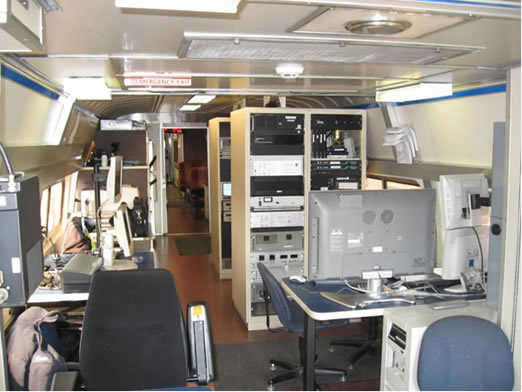 T-16 is a former Amtrak Metroliner passenger car which was refurbished and instrumented with advanced technology, with capabilities for measurement and data collection at speeds up to 160 mph. Measurement capabilities include track geometry, rail head profile, ride quality, and wheel-rail forces.  T-16 can also be used as an instrumentation platform to collect data from sensors mounted on other cars in the train.
 
T-16 has the capability to process and display collected data in several formats. Monitors throughout the train can be configured to show the various displays.  Exceptions are displayed in a list with specific details about each instance and on a GIS map to show their location in reference to other features.  Raw data is streamed across a video strip chart that provides a graphical representation of measured parameters.  The on-board system calculates and displays Track Quality Indices (TQI) based on track geometry data collected by the car.  When requested by track inspectors onboard, data can be printed to an exception report or paper strip chart.  Data can also be downloaded to removable media for offline viewing.
Last updated: Wednesday, November 13, 2019