Amtrak 188 Derailment May 2015
May 2015: Amtrak train 188 derailed in Philadelphia, PA.  Eight passengers died. 185 were injured.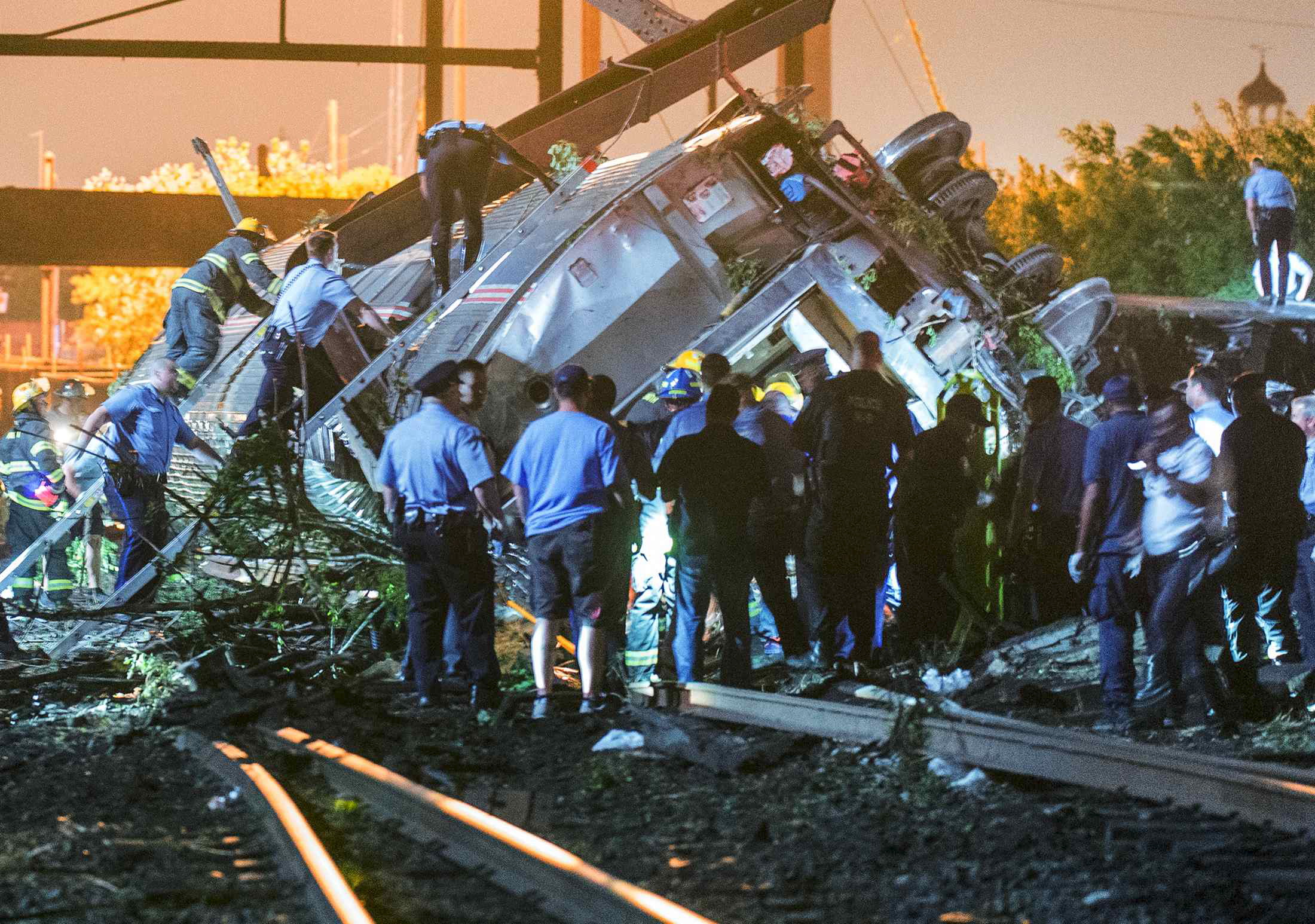 About 9:21 p.m. eastern daylight time on May 12, 2015, eastbound Amtrak passenger train 188 derailed at milepost 81.62 in Philadelphia, Pennsylvania. The train had just entered the Frankford Junction curve—where the speed is restricted to 50 miles per hour (mph)—at 106 mph. It was dark and 81° F with no precipitation; visibility was 10 miles. As the train entered the curve, the locomotive engineer applied the emergency brakes. Seconds later, the train—one locomotive and seven passenger cars—derailed. There were 245 passengers, 5 on-duty Amtrak employees, and 3 off-duty Amtrak employees on board. Eight passengers were killed, and 185 others were transported to area hospitals.
In interviews the Amtrak engineer indicated that he was concerned for the well-being of a commuter train engineer, whose locomotive had just been struck by an object, spraying that engineer with glass from the windshield. The radio communications about that emergency, in which the Amtrak engineer participated and listened, lasted six minutes and, preceded the derailment by less than one minute.
Investigators determined the Amtrak engineer became distracted by the emergency involving the commuter train and lost situational awareness as to where his train was located in relation to the curve with the 50 mph speed restriction. The acceleration past 100 mph before entering the curve where the derailment occurred was consistent with a belief that his train had already passed the curve into an area of relatively straight track where the authorized speed was 110 mph.
Sources
NTSB (2016, 12 May). Abstract: Public Meeting of May 17, 2016. Derailment of Amtrak passenger train 188, Philadelphia, PA, May 12, 2015. DCA15MR010. National Transportation Safety Board. Washington, DC.
NTSB (2016, 17 May).Train Engineer's Loss of Situational Awareness Led to Amtrak Derailment; NTSB Says Technology Could Have Prevented Fatal Accident. National Transportation Safety Board Office of Public Affairs
Last updated: Wednesday, October 23, 2019