Derailment, Bronx NY Dec 2013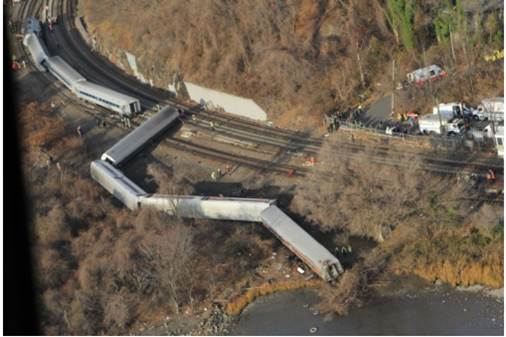 December 2013: Lapse of engineer's attention caused derailment in The Bronx.  4 people were killed.
On the morning of December 1, 2013, passenger train 8808 was traveling from Poughkeepsie, NY Southbound on Metro-North Hudson Line's main track 1, on its way to New York's Grand Central Station. During transit, the engineer's attention lapsed when he fell asleep due to an undiagnosed severe sleep problem, which was worsened by his recent work schedule. This lapse of attention led him to miss a 30 mph speed restriction. The train was going 82 mph and derailed when going around a 6 degree curve. The engineer later told investigators that he remembered feeling "dazed" or "hypnotized" just before the derailment.  At least 61 people were injured, and 4 people lost their lives from this accident. Damages were estimated at more than $9 million. 
Source
National Transportation Safety Board (2013). Preliminary Report. Accident No.: DCA14MR002. Washington, D.C
Last updated: Wednesday, October 23, 2019