Rear end collision, Westville IN
January 2012: Freight train strikes rear of another train in Westville, Indiana. Multi-car derailment and fire.
On January 6, 2012, at 1:18 p.m., westbound CSX Transportation (CSX) freight train Q39506 struck the rear end of standing westbound CSX freight train K68303 on track 2 at milepost (MP) 224.5 near Westville, Indiana.  The crew of train Q39506 had just escaped the locomotive, which had derailed on its side onto track 1, when CSX westbound freight train Q16105, operating on track 1, struck the derailed locomotive. 
The derailed equipment from both collisions included the last 7cars of train K68303, both locomotives and 6 cars of train  Q39506, and all 3 locomotives and 12cars of trainQ16105. Spilled diesel fuel from the locomotives caught fire.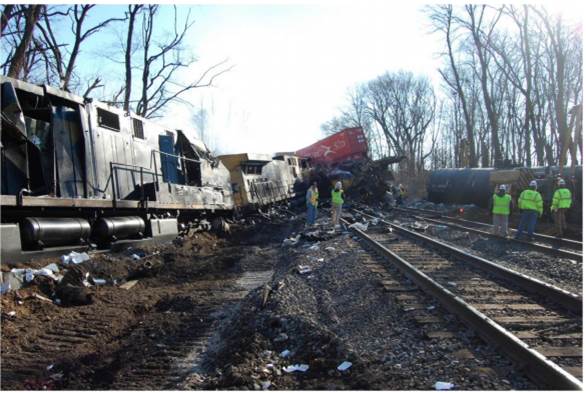 The National Transportation Safety Board (NTSB) determined that the probable cause of the accident was the failure of the crew of striking train to maintain vigilant attention to wayside signals, communicate effectively, avoid distractions from prohibited text messaging, and comply with the speed restrictions required by the railroad signal system. Evidence showed that the conductor of CSX train Q39506 had been distracted by using his cell phone (texting) while on duty,
Source
Railroad Accident Brief NTSB/RAB 13/03. Accident No. DCA-12-FR-002. National Transportation Safety Board. Washington, DC.
Last updated: Wednesday, October 23, 2019