BNSF coal train collision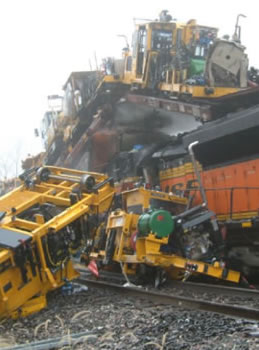 April 2011: Fatigue Caused Collision of a Moving Coal Train with a Standing Equipment Train 2 Fatalities, $8.7M Physical Damage
On April 17, 2011, at 6:55 a.m., a BNSF Railway coal train, travelling about 23 mph, collided with the rear end of standing BNSF Railway maintenance-of-way equipment train, near Red Oak, Iowa.  As a result of the collision, 2 locomotives and 12 cars derailed. The lead locomotive's crew cab was detached, crushed, and caught on fire.  Two crew members of the striking train lost their lives. The physical damage exceeded $8.7 million.  
An NTSB investigation revealed that both crew members had fallen asleep as a result of fatigue due to irregular working schedules. No additional distractions were identified.
Source
National Transportation Safety Board (2011).Collision of BNSF Coal Train With the Rear End of Standing BNSF Maintenance-of-Way Equipment Train Red Oak, Iowa, April 17 2011. Railroad Accident Report NTSB/RAR 12/02. Washington, DC, p. 7.
Last updated: Wednesday, October 23, 2019